Sightseeing flights
Sightseeing flights offer the most breathtaking and awe-inspiring views, incredible photographic opportunities, and sights that many people have never seen before. On one of these flights you may discover sunken ships on our shipwrecks tour, view the City of Toronto on our skylines tour, or be astounded on our Muskoka cottages tour. Or maybe you enjoy skiing or snowboarding and want to see the ski hills from above. Maybe you would like to take an aerial photo of your house to put on the wall. No matter what your destination, Future Air can help.
What is a Sightseeing flight?
A sightseeing flight is one where you sit back and relax while one of our professional pilots handle the controls. Bring your camera, binoculars and sunglasses and let us do all the work.
When are the Sightseeing flights available?
Sightseeing flights are available 7 days a week, 362 days a year. These flights run during daylight hours and only in suitable weather conditions.
Do I have to make a reservations?
To ensure that we are available for you we recommend a reservation, however we can usually accommodate last minute walk-ins.
Are they seasonal? When do they run? Can I do weekends?
Flights run all year round, each season whether it is spring, summer, fall or winter offers unique sights to behold. Spring time bring new growth and colour. Summer has beaches and golf courses. Fall offers amazing red, orange and yellow as the leaves change colour and winter skiing, snowmobiling and ice fishing.
When is the best time to go?
Many people ask when is the best time to go, our response is that it is day specific, each day is unique and special and it depends on what you're interested in seeing.
How many people can go at one time?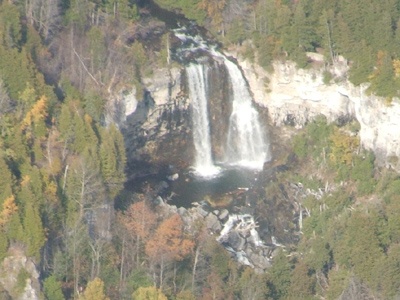 Future Air uses the Cessna 172 which is a four seat aircraft. The aircraft has a high-wing design which offers better views for scenic flights, you won't have to look at the top of the wing during the whole flight. This aircraft provides a comfortable flight of both long and short duration. These well maintained aircraft can accommodate 3 passengers per trip with each seat being a window seat.
How long are the flights?
The nice thing about a sightseeing flight is you can choose the length. The typical sightseeing flight is anywhere from 30 minutes to 60 minutes, but if 45 minutes is all you need then that is all you will pay for. Future Air will not round up to the next hour even if you flight finished early.
What Can I see during the flight?
Depending upon you choice of location and length of flight you can marvel at the many sights that a sightseeing flight has to offer. We have different options to choose from or you can customize a flight to suit what you want to view. Some popular scenic flights include:
Muskoka Cottages Tour
Fall Colours Tour
Toronto Skylines tour
Shipwrecks tour
Sunset tour,
Prom-Posals
Wedding Proposals flights
Do they make a good gift idea?
A sightseeing flight makes for an excellent and unforgettable gift. Whether it be for a wedding, anniversary, birthday, Christmas or even mothers/father's day, sightseeing flights are a very unique way to share what the area has to offer and it will be talked about for a life time.
Easy and convenient, let us help you create memories for years to come, contact us and let us personalize a gift certificate for that special someone.
"The dream of flying has been with me from an early age. Having set that dream aside due to other priorities, many years passed and I found myself in my late 30s wondering if I would ever earn my wings. As fate would have it, I discovered Future Air, and decided to enrol in their Flight Training program. I booked my first flying lesson and through continued determination, focus, and my passion for aviation, I was able to complete all of the required training, and eventually pass both my written and flight exam. Thus finally making a childhood dream come true! Future Air guided me every step of the way from start to finish. Their instructors are highly knowledgeable individuals with a passion for aviation. I would highly recommend Future Air to anyone who wants to earn their wings and take to the skies. For a career, or for pleasure. Their aircraft are well maintained, a pleasure to operate, and to this day, I still utilize the services of Future Air by renting their aircraft to take family and fri"

Daniel Silva