Hanover
In 1849 Abraham Buck and his partner cut a trail west of Durham and built a farm by the Saugeen River. They were soon joined by a number of German settlers. The community was first known as Buck's Crossing or Buck's Bridge and later by the name of Adamstown. When a local post office was established in 1856 the name was changed to Hanover.

Surrounded by farms, forests and small lakes, to say nothing of the large lake and bay within easy flying time, sightseeing at all times of the year is awe inspiring. One of the most frequently requested tours is to fly over your neighbourhood so you can take pictures of your home from the air.
Bruce Nuclear Power Plant
Bruce Nuclear Generating Station is a nuclear power station located on the eastern shore of Lake Huron in Ontario. It occupies 932 ha (2300 acres) of land and gets its name from Bruce County in which it is located. It is the largest nuclear generating station in the world by total reactor count, the number of currently operational reactors and total output. The station is the largest employer in Bruce County, with over 4000 workers. Formerly known as the Bruce Nuclear Power Development (BNPD), the facility was constructed in stages between 1970 and 1987 by the provincial Crown corporation, Ontario Hydro.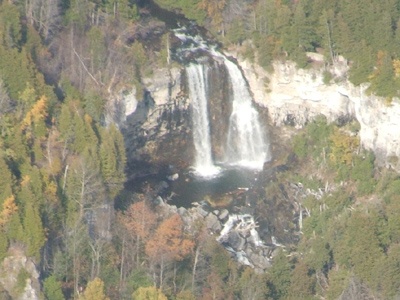 Eugenia Falls
Eugenia Falls is a fairly well known waterfall, marked on many road maps. The waterfall is tall, but fairly narrow, as it does not usually discharge a large amount of water. The development of a nearby hydroelectric power plant diverts much water away from the falls.
Scenic Beaver Valley
The Beaver Valley has formed over a period of several thousand years as the Beaver River cuts into the Niagara Escarpment. Today, the river continues to cut southward into the bedrock at Eugenia Falls. Gradual erosive processes have created a wedge-shaped valley with a width ranging from approximately 30 metres at the south end to 13 kilometres at the north end. The Valley and surrounding area are home to the quaint villages of Flesherton, Eugenia, Kimberly, Clarksburg and the Town of Thornbury.
The Beaver River plunges 80 feet into the valley below. Tours provide stunning views of the gorge with its spectacular autumn colours.
"I had the pleasure of flying with Jeff last evening for an annual check up and to regain my night currency. It was very cold but like a trooper Jeff called about 4pm to verify that we were still on for the check ride at 6pm. During the per-flight aircraft check when I discovered that there was only 5 and a half quarts of oil in the engine and was not happy initiating an hour long flight with that quantity, he happily went back to the office to grab another bottle of oil for the aircraft despite the cold. During the flight he was very calm and attentive. A real pleasure to fly with. I am impressed with his level of professionalism, and look forward to flying with him again. "

Peter Richards